Now Medelement, a doctor search service, is available in Uzbek!
Date of publication: 15 Jan 2019
Medelement platform expands its geography!
Medelement.uz, a doctor search service, was launched in Uzbek this new year. The Uzbek version includes a full-fledged interface with search functions for medical institutions and doctors by location, services, specialization.
Patients can quickly find the necessary clinic in the service, the contacts and location on the map, find out what services the clinic provides and which doctors are receiving, as well as leave their feedback. In addition, you can ask a question or make an online appointment at medical centers connected to these functions.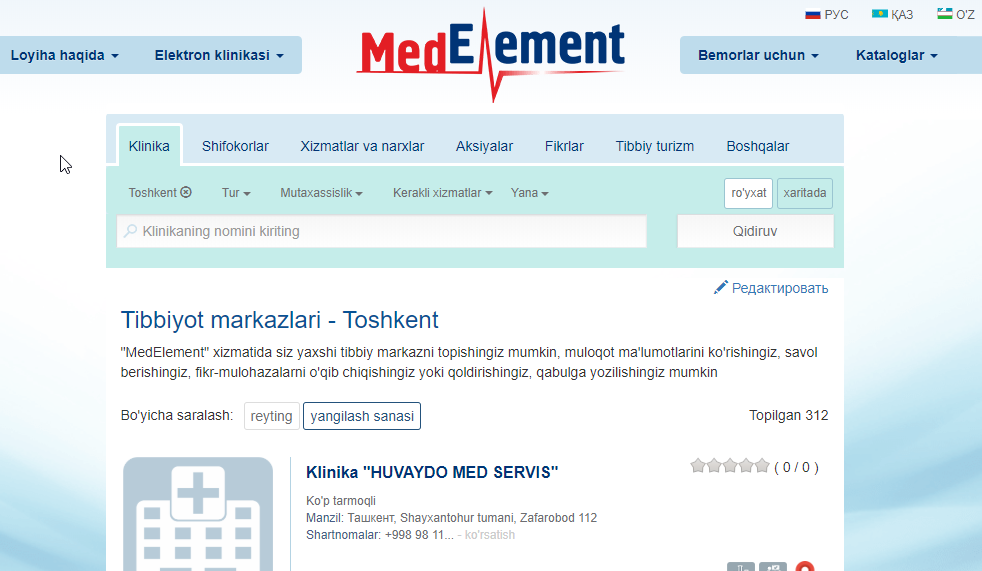 Now the service database already contains information on medical institutions in Tashkent (in Uzbek):
- 300 clinics
- 600 pharmacies
- 1300 healthcare professionals
Completion of the information base of the Medelement.uz service is in process!
In addition to the Uzbek version, the Medelement.ru service for Russia and the most visited service for finding a doctor and clinic in Kazakhstan, Medelement.kz, are already operating on the basis of the Medelement platform.
---