"Lekar Pro" application for doctors released in Belarus
Date of publication: 04 Nov 2019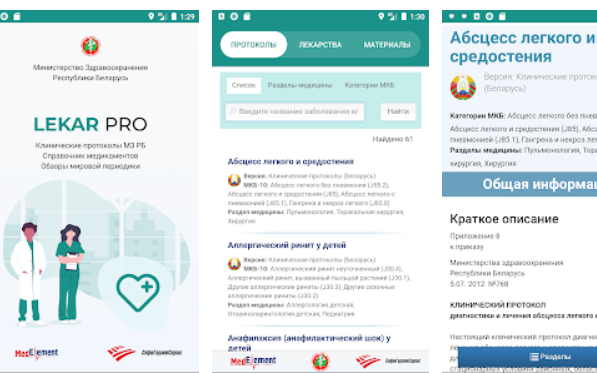 "Lekar Pro" is a specialized mobile application for doctors in Belarus. The application provides quick access to the standards for the diagnosis and treatment of diseases developed by the Ministry of Health. The necessary information will now always be "at hand".
The mobile application for doctors "Lekar Pro" contains a complete database of clinical protocols of the Ministry of Health of the Republic of Belarus and operates on the basis of the Medelement.com
Clinical protocols are the regulatory standards that doctors should rely on when making a diagnosis and prescribing treatment. These protocols are recommended for implementation by public and private medical institutions in the provision of medical care to the population.
Download the app - Google Play Market, AppStore
The project was implemented in cooperation with the international medical platform Medelement.com and the Belarusian company "Softgarantservis".
The application allows you to quickly find the required protocol by the name of the disease, ICD code or section of medicine.
In addition to the protocols, there is a separate section "Medical products" in the application. It contains descriptions of medicinal products registered in the territory of the Eurasian Customs Union and instructions for them.
An additional bonus of the application is the information and reference section, which will help the doctor to be always aware of the most significant news in medicine. The section includes up-to-date Russian-language reviews of the world medical periodicals, which are prepared daily by a special medical editorial staff.
To the attention of developers! The Medelement.com platform is open for cooperation with developers and provides API functions for integrating information from our applications into other information systems.
---