10 million unique users in 10 months of 2019 on MedElement platform!
Date of publication: 12 Nov 2019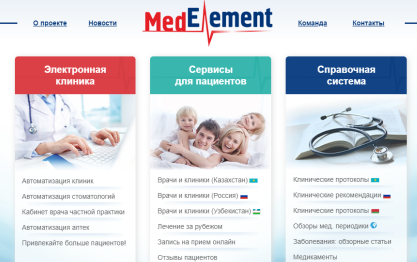 It means that every third of Kazakhstani uses MedElement services.
We had crossed over this board on November 1and began to come close to the next record of our project. According to our calculations, by the end of 2019, more than 12 million people will visit the platform and more than 20 million unique visits will be recorded.
One of the important trends this year for the MedElement is a well-growing traffic in a number of CIS countries (Russia, Uzbekistan, Belarus, Ukraine). Our Russian-language content began to turn into traffic well and in such countries that are quite distant from us, such as the USA, Germany, Turkey, Israel, Great Britain, Sweden.
As of November 1, 2019, the most of visitors was registered in the following countries:
1. Kazakhstan – 4.5 million
2. Russia – 3.3 million
3. Ukraine - 560 000
4. Belarus - 280 000
5. Uzbekistan - 179 000
6. Kyrgyzstan - 88 000
7. Moldova - 65 000
If we compare the number of unique visitors as a percentage of the population with access to the Internet, the placement in the TOP by country looks like this:
1. Kazakhstan - 32.6% of all Kazakhstanis with Internet access
2. Kyrgyzstan - 7.9% (unexpectedly high result for us)
3. Belarus – 4.8%
4. Moldova - 4.3% (every 4 residents of Moldova out of 100 visited our project)
5. Russia – 3.6%
6. Armenia - 2%
7. Ukraine – 1.4%
If our users are observed by city, then the TOP-10 will be like this:
1. Almaty
2. Astana
3. Moscow
4. Kostanay
5. Shymkent
6. Atyrau
7. Aktobe
8. Saint-Petersburg
9. Karaganda
10. Pavlodar
Ufa, Kiev, Tashkent, Krasnodar, Minsk, Yekaterinburg, Novosibirsk, Chelyabinsk, Bishkek, Kazan, Sochi, Nizhny Novgorod, Irkutsk, Rostov-on-Don, Voronezh, Krasnoyarsk, Baku are also in the TOP for unique users.
The number of users in the very last city of the TOP-list exceeds 50,000 people!
Thus, we can safely declare that the geography of the MedElement platform is expanding, the number of projects, products, services and users is growing. We have now become a truly international platform!
---